New York State Fair Science Exhibit and Demonstration 2009
Art and Physics at The Fair
The New York State Fair Science Exhibit is my most ambitious project. It is a free educational demonstration which features my collection of vintage pendulum drawing devices and an assortment of other physics toys including; lasers, chemistry, biology and space science (NASA) artifacts and displays.
The exhibit is located in the Time Warner Science and Technology Building, Hall of Medicine which is the first big building to the right inside the main gate of the New York State Fairgrounds. I am allocated a 10'x10' space which is completely filled with science and physics paraphernalia and Harmonograph related items.
The center piece of my exhibition is a large precision pendulum Harmonograph which I designed and it is operated continuously at The Fair. During the 12-day run of The Fair I create over 3,000 Harmonograms which I distribute free to the public; approximately 50,000 people pass by my exhibit.
My large drawing machine is in the center. The pendulums are over two meters long and I need a step-stool to operate the drawing pendulums.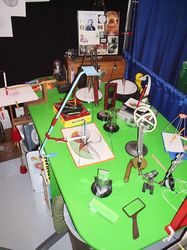 The front display box; (L. to R.) shadow box 3D harmonogram and Moire pattern demonstration, Topcon mirror stereoscope to view 3D harmonograms and my tip jar.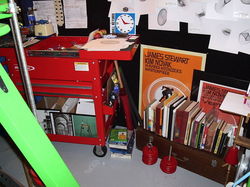 Tool box and resource library (people constantly try to stump me with tough physics questions).
Kids checking out my 3D stereoscopic harmonograms with anaglyphic (red/cyan) glasses.