Mother Earth News
Almanac of Family Fun and Pastimes and Pursuits (1983)
This is a table-top version of a Lissajous Figure Drawing Machine with the typical "Mother Earth" treatment. Note the clever use of miscellaneous parts.
Critique: The pendulum weights aren't really adjustable which pretty much limits the ratios you can achieve. (Note that a pendulum's period is determined by the length of the pendulum rather than the weight of the bob!)
Click on a page to view full size: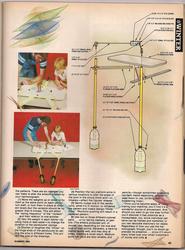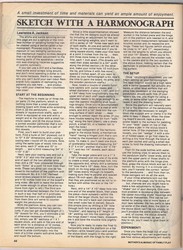 Two-page Spread
Article title; "Sketch wth a Harmonograph" by Lawrence A. Jackson.